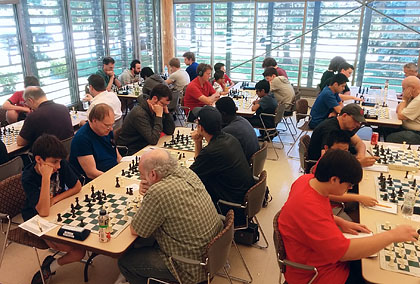 PLAY CHESS
Open chess every Tuesday from 6:30-9:00 p.m. for players high school age and older. It's free. Boards and sets are supplied. The third Tuesday of each month we have blitz chess round robin for those who want to participate.
We meet at: Levy Senior Center, 300 Dodge Ave., Evanston, IL 60201.
ABOUT US
Evanston Chess exists to provide relaxed, congenial chess to adults (high school and older). Some members like slow games, others prefer blitz. Some want rated play, others don't. We offer a mix. Beginners are welcome. Membership is free. Our focus is on enjoying chess, not on prize money. Our club includes ages fourteen to over seventy, and players from beginners to masters.
Evanston Chess
USCF Affiliate A6027684

Tournament History
Active Players
We meet at
Levy Senior Center
300 Dodge Ave.
Evanston, IL 60201