Blizzard of Wins for Wilber at Holiday Blitz
Seven games in less than two hours? Anything can happen. At our traditional inter-holiday blitz tournament on December 28, a very strong field saw captured kings, flag falls, a stalemate in spite of overwhelming material, loss on an illegal move, and at least one draw for insufficient material. But that's okay, wait 15 minutes and the next round will begin.
After the last pawn had been pushed, expert Matthew Wilber emerged as the sole winner with a perfect 7-0 score. Next was NM Jon Burgess, who lost only to Wilber. In third place, with a 5.0 score was Eduard Baev, a long time player who just started playing USCF chess in November.
Several unrated players came out to test their skills in this unrated evening event. Just for fun, we've calculated post-tournament ratings for the tournament, based on pre-tournament Regular USCF ratings for the field. While regular-rated tournament for this field would have yielded different results, this gives unrated players a rough idea of initial rating.
by Maret
Arnulfo Benesa En Passant

NM Arnulfo Benesa, 2000 US Senior Champion, is gone. He had suffered from strokes for the past two years, but had continued to play chess until the last several months. His friends at Evanston Chess will miss him.
Visitation will be Saturday, Dec 11th.
Drake and Sons Funeral Home
5303 N Western Ave
Chicago, Il 60625
Dec. 11, 2010
3:00 pm to 7:00 pm
In lieu of flowers, please address memorial contributions to
Arnulfo (Arnold) Benesa Chess Memorial Fund
by Tom

November Tournament posts two three-way ties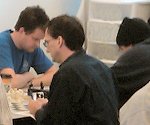 Our Game 45 tournament on November 6 drew 30 players. We divided to two sections this time, since we didn't have enough players for a stand-alone Bronze (U1200) section.
The top seeds had a tough first round and the Gold Section saw some upsets. In the end NM Ken Wallach, NM Jon Burgess, and Robby Hecht tied for first in the Gold Section with 3-1 scores. Hecht's strong performance earned him 50 rating points and a career-high regular rating.
In the Silver/Bronze Section, Eduard Baev, Mark Spitzig, and Haoyang Yu tied for first with 3½-½ scores. This was Baev's first rated chess tournament after decades of playing the game, and he'll now start his USCF rating chart with a provisional rating of 1693.
by Maret
Burgess Plays Simul in Black-and-White

In the spirit of keeping things interesting and fun, NM Jon Burgess added a new twist to a time-honored format. At the Evanston Chess Club Simul on September 28, Burgess let his opponents choose their color. The club squeezed in two extra boards for the free event, which just managed to finish within its two-hour time slot.
Twelve players got their shot at the master. Burgess scored 9.5 out of 12. Marty Wilbur won his game as black, and Robert Loncarevic won his game as white. Mark Jutovsky drew with the black pieces.
Thanks from all who participated to NM Burgess for doing the simul, and trying something new. The players included: Martin Wilbur, Frank Lasch, Mike Wishner, Mark Jutovsky, Michael Matek, Igor "Eric" Shapiro, Jon Neumann, Oleg Trifonov, James Marchert Sr., Timothy Krick, Robert Loncarevic and Dean Arond.
by Maret
Cen and Zinski with Stunning Wins at the September Three x Three
On September 25th, the Evanston Three x Three attracted more than thirty players of varying skill levels from throughout Illinois. Many thanks and welcome to Keith Ammann, who drove out from Freeport, and Tobias Simpson, who traveled all the way up here from Champaign!
Kent Cen and Maximilian Zinski tied for first in the Gold Section with perfect scores of 3.0/3.0. Also, special congrats to Conrad Oberhaus, who defeated NM Jon Burgess in their first round game, and ultimately shared third place with Burgess, Tobias Simpson, and Dimitri Kosteris.
In the Silver Section, Matthew Stevens clinched first place with a score of 2.5/3.0. Behind him in that section, Evan Spiegel, Christian Kavouras, Dan Griffin, and Michael Wishner tied for second, each with 2.0/3.0.
In the Bronze Section, a tie occurred between Keith Ammann and Dennis Doyle (who gained nearly 100 rating points), each with an outstanding score of 2.0/3.0.
by Ryan