Small Is Beautiful...and Strong
Our November 2 dual-rated tournament had a relatively small turnout of 33, but quite a bit of strength at the top. Clear first place honors in the Gold section went to the new guy in town: Ekin Zeytinoglu, a FIDE-rated college student from Turkey who was playing his very first USCF-rated event and went undefeated for four rounds. Expert David Franklin and Daniel Bronfeyn each had 3 points, and guest master FM Kevin Bachler and NM Ken Wallach each scored 2.5.
Kevin was kind enough to annotate his four games from the tournament and they can be viewed here.
Tony Christian led the Silver section with a perfect 4 (and a gain of 81 points), followed by Daum Hazners, who scored 3 for the day. Annie Xu proved she was ready to play up to the middle section, picking up 142 rating points in the process.
Keith Ammann showed us he's back in form by winning the Bronze section with a 3.5 score and a gain of 112 points. Adam Bareket and Aaron Howe were right behind him with 3.0 scores.
Large Turnout for September Tournament
Thanks to team members from Argo and Richards High Schools, Evanston Chess Club had an extra-large Bronze section at our September three-round event. Guest Master NM Mariano Acosta scored 2.5 and shared first place honors in the top (Gold) section with Daniel Bronfeyn. NM Ken Wallach, Bill Smythe and Josh Finkelstein each had 2 points for second place.
In the Silver section, Edward Zhang's 3.0 score earned a clear first. Michael Cordero and Tom Bareket (rating jump of 122 points) were right behind him with 2.5 points. Adrian Villacorta and Adina Bianchi tied for the Bronze section first with 3.0 scores, Christopher Brown took second with 2.5 points.
We are very grateful to the Levy Activity Center for moving us to a larger, quieter space that comfortably accommodates all three of our sections.
What We Did on Our Summer Vacation
Labor Day has come and gone. Before we plunge into the fall frenzy, let's take a quick look back on our chessic summer.
July Tri-Level
NM Sam Schmakel scored 3.5/4 (drawing with Expert Bill Brock) to win first place in the Gold section of this four-round event. Joe Fennessey, Adrian Zolkos and Jiri Kabelac were second with 3.0 scores. In the Silver section, Caelan Burke-Kaiser won with 3.5 points and also picked up 200 regular rating points in one of the more impressive personal chess growth spurts the club has seen. Brian Gilvary and Mike Wishner tallied 3.0 points for second place. Bronze section first place honors were shared by Stephen Horvath and Philip Acquah, each with 3.5 points. Michael Monsen was the sole player in second place with 3.0 points.
Chess in Fountain Square
Evanston Chess Club teamed up with the Downtown Evanston merchants organization to run a "Chess in Fountain Square" event on Saturday, July 27. Passersby had the choice of playing on a giant chess set on the pavement, or sitting at tables and playing on standard sets, and Evanston Chess club members were on hand to help out with explaining the game or supplying sparring partners. All kinds of people paused for a game or two or simply to watch. Even though it was a cool, overcast day, the six boards and the big set were pretty busy. Thanks to Penny Rosemont, Tom Kirk, Keith and Nathan Holzmueller, Lisa Amoroso and and Nate Tracy-Amoroso for helping out. We'll definitely do this again, if you're interested in helping out some summer evening or weekend day in 2014, contact Maret Thorpe, This email address is being protected from spambots. You need JavaScript enabled to view it..
Swan Receives Braswell Memorial Prize; Auger wins Blitz Benefit Tournament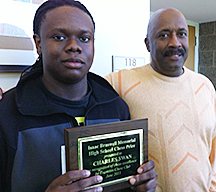 Charles Swan Jr. received the first Isaac Braswell Memorial High School Chess Prize at Evanston Chess Club on June 8. Swan earned the prize by being the highest-rated African American senior year player in IHSA chess. He played board two for the Whitney Young High School chess team that won the 2013 IHSA championship, and he is an active USCF player with a 1935 regular rating. Swan received the $300 award during the Second Annual Isaac Braswell Memorial Blitz Tournament. In accepting the award, Swan thanked the club for sponsoring an award in honor of Braswell, who Swan knew, respected and played against over the years.
Swan, who is headed off to Ohio State University to study business, started playing chess when he was five. His first major chess win came at the Supernationals, where he tied for 2nd place in the unrated K-8 section as a fourth grader. He has studied the game with his father Charles Swan Sr., Wayne Smith and IM Angelo Young.
University of Illinois student and former IHSA player Michael Auger was the clear winner of the Second Annual Braswell Memorial Blitz tournament with 9.5 out of a possible 10 points. The event drew a strong field of 22 players including six who have attained expert or higher ratings. Matthew Wilber, David Franklin, Jordan Cohen and Robby Hecht all tied for second place with 7.0 points each. Fred Rhine and Rob Eamon were third place with 6.0 points. All proceeds from the tournament will go to future Braswell prizes.
Special thanks go to to Penny Rosemont, who donated a weighted chess set and deluxe travel bag, for first prize. Thanks also to Ted Moon, who also donated chess supplies that we sold to help fund future Braswell prizes.
March Madness
It's not just a certain sport-played-by-tall-people that goes crazy in the third month of the year. Chess players have their own version of March Madness. They've either just finished the USAT or the IHSA team championship, or they're gearing up for the State K-8, the National Scholastics or the Chicago Open.  At the March 2 Evanston Tri Level, we had 55 players who were either already in fighting form, or working toward it.
Our Gold (1700+) section was won by NM Ken Wallach with a 3.5 score. Right behind Ken were Greg Bungo, Eric Panigua (the only player to draw with Wallach) and Vito Vytkauskas, each with 3 points. Thanks to guest master NM Fred Rhine, who returned to regular rated play "for the first time this millenium" as he put it.
Rahul Dhiman scored a perfect 4 in the Silver section (1200-1699). Jay Kushinsky, ETHS's Xander Nicolson and Edward Zhang (picked up 100 rating points) came in second place with 3 points each.
In the Bronze (U1200) section, Conrad Zborowski also had a perfect 4.0 score, and gained 98 rating points. Four players had 3.0 scores: Clifford Adams, Mariel Rancel, Nicholas Johnson and Matthew DeMario.
The big rating gainer for the event was Nicholas Johnson, who leaped from 634 to 930 regular rating in his second foray into rated chess. Welcome to new player Kevin Hurley who scored two wins in his first tournament.
We had a good turnout of high school players, including a large group from Richards High School, and three players from Evanston Township High School.
by Maret