En Passant: Isaac M. Braswell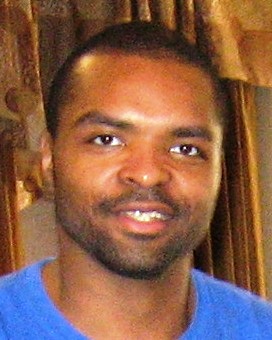 Our friend, fellow player and teammate Isaac Braswell died last Friday, March 2. All who knew him are very sad. His cheerful good humor and ability to instantly light up a room will be missed.
Isaac's family is holding a memorial service for him on Thursday, March 15 at 3:30 p at A.A. Rayner Funeral Home, 318 E. 71st Street, Chicago.
Isaac lived at the Lawson YMCA in downtown Chicago. About 100 people attended the memorial service held there on the morning of March 13. His family, his many friends, members of the chess community and fellow Lawson residents all came out to speak about how kind, generous and friendly Isaac was, as well as what a tough (but fun) competitor he could be, whether it was at chess, dominoes or basketball.
On Tuesday, March 13, we'll talk during club time about what we'd like to do to honor Isaac's memory.
Burgess and Wilbur Share Honors in Top Section of March Tri-Level
In the Evanston Chess Tri-Level held March 3, NM Jon Burgess and Matthew Wilber tied for first in the gold section with 3.5 points each. A more decisive outcome may have resulted when the two met in the third round, but Wilber played a conservative line. After much maneuvering the players drew. Greg Bungo and Guy Kittelsen were right on their heels with 3 points each.
In the Silver section, Jay Kushinsky was the winner with three wins and a draw. He attributed his success at the board to a good night's sleep, and playing solid chess instead of going for the quick attack. Bradley Guan, Charles Coffman, and Kymo Alboravas each had three points. Daum Hazners also did well, winning 1.5 games in this section and going one for two in cross-section pairings with Gold section players.
Our Bronze section was the largest it has been in a long time, and included players from Naperville North and Argo Township high schools (an Evanston Township student played in the Silver section), which just goes to show that the IHSA season may be over, but it's never too soon to sharpen the game for next year. Anjan Chittajallu came in clear first with 4.0 points, including a cross-section win against a Silver section player. Dan Margulis was second with 3.5 points. Big rating point gains for the day included Chittajallu and Adrian Villacorta who came into the tournament with low ratings, as well as Charles Coffman in the Silver section who picked up 111 points.
Evanston Chess Teams Play at USAT-North
Evanston Chess Club was delighted to sponsor two teams at the US Amateur Team-North in Northbrook on February 17-19. The USAT is a set of four very popular USCF national team events held around the country on President's Day weekend. It's a chance for chess players to take their game on the road as a team. Sure, you can go to a regular tournament with a friend, but it's more fun to have three others facing the opposition with you, who want you to succeed, and who want to succeed on your behalf. Near the end of a long round (g/90, increment 30) when the room has cleared out, it's a good thing to have teammates who stick around when their own games are done because they want to see the outcome of yours.
Team captain Jon Burgess put it best in an email to his teammates before the event: "All of you have your own goals for this weekend. It may be to win all your games, it may be to score 1/5, but that one win is against a strong player and means the world to you. It may be you're playing just to have fun. Whatever the goal you seek, I wish you all well with it and I will be there to support you in trying to achieve your goal."
Evanston's teams were made up of a diverse group. Our team rating range was 890 to 2187. Team age range was eighth grade to some unspecified point north of retirement. In spite of the "amateur" label, these events tend to bring out strong players--in a field of 171 there were 48 players rated 2000 or higher--so both teams had their work cut out for them.
Quick Quads Serves up Taste of Chess
This tournament was my experiment. I was trying two things:
Quick Quads: a round-robin format at a quick time control (G/26, delay 3) that would let players fit in three games of chess and still have their afternoons free.
Unrated: how would players respond to an opportunity to play in regular tournament conditions, with zero impact on ratings?
The experiment was a success, with 18 players coming out for the event. They ran the gamut--Evanston Chess Club regulars, players who hadn't played a rated game in a few years, high school students gearing up for next weekend's IHSA team championship, and one player who has never been a USCF member.
In the top quad, NM Sam Schmakel was the player to beat, and he won all three of his games. The next quad down saw Daum Hazners (2.5) edge out Mark Coleman (2.0) for first place. Evanston Chess Blitz TD Michael Matek took first with a perfect 3.0 in the third quad. Said Matek: "I really should play rated." We agree. Our bottom section was a sextet, which played three games and featured another perfect 3.0, this time by ETHS player Justin Liao. We'll definitely repeat this experiment. Continue on for complete results.
by Maret