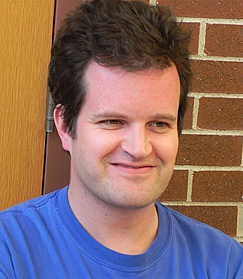 NM Jon Burgess, a frequent player in many Chicago-area tournaments, died on Sunday, August 12. He was 35 years old. Jon's good company and straightforward game analysis will be missed by his over-the-board opponents and those who knew him in the Illinois chess community.
Jon was a regular at Evanston Chess Club; he liked to come on Tuesday evenings and play just for fun. He also played many times in our tournaments as guest master, and frequently "won the chocolate" at our monthly blitz round robins. Jon was always willing to analyze games, help an occasionally overwhelmed tournament director keep a Saturday tournament on track, play a simul against his fellow club players, or give a lecture. We are honored to have known him and to count him as a friend and fellow player, and we are very sad to lose him.
He is survived by his wife Colleen Plummer Burgess, their son Robert, his parents George and Dilys Burgess, his mother-in-law Elaine Plummer, his brother- and sister-in-law Eric and Melissa Plummer and their daughter Sophia.
Visitation for Jon Burgess will be held on Monday, August 20 from 3-8 pm. at Matz Funeral Home, 410 East Rand Road, Mount Prospect. In lieu of flowers, memorials to your favorite charity are appreciated. The obituary will be listed in the Sunday tribune.
One of Jon's lectures is posted in the ICA's Chess Blog; it includes his analysis of his game against GM Yury Shulman in the 2004 Chicago Open. This was Jon's favorite illustrative example of "play the board not the person" and "believe you can beat anyone no matter what strength you are."
Bill Brock has also written eloquently on Jon in the Chicago Chess Blog.
by Maret